Bifurcated fans in Gloucestershire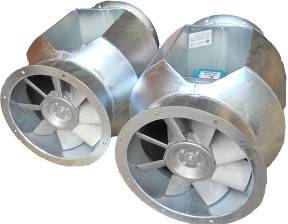 At Cadfan Ltd, we specialise in the manufacture and supply of bifurcated fans
A range of direct driven bifurcated axial fans has been specially designed for handling air which could otherwise be detrimental to the life of the electric motor. The air may be either hot, dusty or contain corrosive fumes or gases. This range is available in two types, conical and cylindrical. Temperatures from ambient to 150c.
Our bifurcated fans range includes
• Conical bifurcated fans – 11 sizes from 315mm to 1000mm
• Cylindrical bifurcated fans-5 sizes from 630mm to 1000mm
Choose us for:
• Professional service
• Competitive prices
• Free quotes
• Wide range of fans
• Quality maintenance and repairs
QUESTIONS?
If you are looking for a fan or impeller specialist then Cadfan can help. For over 20 years we have been specialising in this particular sector and we have a vast amount of knowledge and expertise in the fan and impeller service and manufacturing industries. Call 01452 690 035 for some professional advice and to find out how we can help.
CONTACT US